They fried my brain with their hotness so, yeah, this is all their fault... Picspam of
1x13: Episode of Win
... No, wait... that's not the official title...
Revenant
, yeah, that's it.
PREVIOUSLY IN THIS EPISODE
OF WIN
There's this Seeker, Kieran, who had sex with his Confessor, Vivian, so he was confessed, lost his soul, was distracted, his mission was in danger... There's this Wizard (whose name I can't remember at the moment, let's call him Not-Zedd) who asked Vivian to kill herself so the Seeker would be free from her spell or confession or whatever you want to call it (wizards have like the best ideas on earth, can't you tell?). So yeah, she killed herself, she told Kieran that she'd wait for him in the underworld. But it happens that Kieran kind of went crazy!evil and Not-Zedd had to kill him and then cast a spell on him so he wouldn't reunite with Vivian in the underworld (yeah, Not-Zedd was
quite
mean). Sooooooo, not knowing any of this, Richard, Kahlan and Zedd release the spirit of Kieran, who posseses (in the spirit way/sense of the word) Richard and... well, he's been alone, waiting for his Vivian for a thousand years... what were you expecting him to do?
THIS IS WHAT HAPPENS WHEN YOU LOCK A SEEKER AND A CONFESSOR IN A CRYPT, AND GET RID OF THEIR WIZARD
Kieran!Richard (Richard from now on) knows that the first thing you have to do if you want to have some sexy!time with your confessor is to GET RID OF YOUR WIZARD! Yay!

And then close the door and keep the key so he cannot come in when he wakes up. More yayness!
Kahlan is all: "WTF?" and Richard is all: "I'm not Richard anymore, I'm Kieran."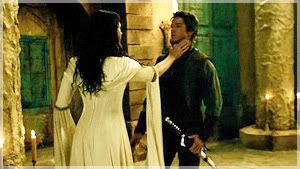 Richard wants her body (literally) and Kahlan is all: "Stay back! I will confess you!" and Richard is like: "Yeah, riiiight, as if."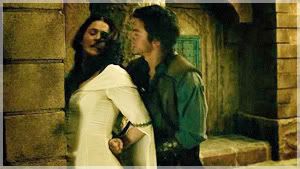 Made up conversation #1
:
"Let's have sex right here, against this wall."
"Richard, no! This is not comfortable!"
Made up conversation #2
:
"Erm, Kahlan, would you mind to pretend that I've got your hands trapped, even if it's obvious that I don't because both of my hands are here, busy, trying to get this belt to work as a tie?"
"Sure, why not."

Made up conversation #3
:
"WTF, Richard? Do you really need to paint a
mandala
right at this moment? We were going to have sex!"
Made up conversation #4
:
"Look, Kahlan, this is Vivian."
"Seriously, Richard, first your creepy old girlfriend, now a creepy ghost... I know I've got you sex-deprived, but you need to high your standards a little."
Pre-
workout
stretching.
Fingers!porn. They're like: "ZOMG, WE'RE TOUCHING! *flails*" ♥

THEY'RE SO HAPPY!!!!
yay! me too!
Make-out session
#1
.
Touchy
Richard&Kahlan. Richard is all: "Huhmm", "Ohhh." xD Richard's ears are red! (This was brought to you by the
Random Unrelated Things' Society
)
Kahlan's hand is under his jacket!!! *flails*
Kahlan
decides
that the make-out thing is wrong. And Richard is like: "What? But you led the wizard to my crypt so he could release me. This kind of was your idea." And Kahlan is like: "But I wanted us to be together in spirit, not in flesh." And Richard is like: "O___o"

Then Kahlan leans over the crypt, which is not the best movement if she was trying to stop Richard advances, because then she looks all sexy. Not that she was really stopping him, anyway.
Richard is all: "Tell me that you don't love me and I will release you." And Kahlan... well, Kahlan just jumps over him. Which leads to make-out session
#2
. YAY!

Made up conversation #5
:
"OMG, Kahlan! You're not doing what I think you're doing!"
"Taking my clothes off? Yep, I'm totally doing it."
"LET ME HELP YOU WITH THAAAAAAAAAAAAAAAT!"

THEY'RE TAKING EACH OTHER'S CLOTHES OFF, PEOPLE!!! And as soon as Richard is shirtless, Kahlan gets all
touchy
again. *loooooves it*
Richard is hawt! And he finally gets rid of Kahlan's dress! And he's like: "OH MY, BARE SKIN!"

THEY'RE SO PRETTY! ♥__♥
Then Richard helps Kahlan to sit on the crypt. I know, not the most romantic place in the world, but hot nonetheless.
They're doing serious business here. *nods* Plus, hair clutching!!!
Then Kahlan helps Richard to get rid of his belt. And I kinda hate that candle. And OMG, THIS IS GETTING TOO HOT FOR ME TO HANDLE!
ORGASM!
Erm, yeah,
that
.

Orgasmic!Kahlan + Touchy!Richard = WIN!
NEXT PIC IS
DISGUSTING
DISTURBING...
↓
YOU'VE BEEN WARNED...
↓
OKAY, BUT I DON'T WANT YOU TO COMPLAIN LATER...
↓
COCKBLOCK!!!

Made up conversation #6
:
"ZOMG, Zedd!!! What the... Don't you know how to knock a door or what? If you're not here to give us some of those magical precautions of yours, GO AWAY!"

Made up conversation #7
:
"How you dare to perform a
Zedd interruptus
while I'm having sexy!time with my Kahlan! I will kill you!"
"No, Richard, wait! Let me confess him and we'll ask him to eat his stinky socks."

Then Zedd threatens to kill Kahlan, so Kieran releases Richard's body. And then Vivian releases Kahlan's body. And they all lived/(died?) happily ever after...

Okay, I was lying. Richard and Kahlan are quite frustrated because they still cannot be together. But Zedd has gone to hide the Box of Order, leaving them alone, so that's a good thing, right? Right? *sigh*
BUT ZOMG, EPISODE OF WIN!!!
Caps are all yours if you want them. I'm too tired to fight. *falls asleep over the keyboard*